Here at Kwiziq, we're a mixed team of language enthusiasts, with different approaches to how and where we most enjoy using our language skills. Dotted around the globe working from home offices, we don't often get a chance to sit down and have a chat. So I thought it would be a good idea to get to know some of my colleagues better and introduce them to you through a series of interviews.
This time I'm talking to Cécile Janty-Davies, one of our French Experts.
Bonjour Cécile! Can you describe your role here at Kwiziq?
Bonjour Rowen! I was recruited to deal with unanswered questions in the Q&A as Kwiziq's user base grew quickly. I still do this but I have some help from Céline now! I also help improve our content, based on user feedback and look at topics that need developing or new areas that would bring value to Kwiziq. I have recently started creating new content to help Aurélie out, such as the fill-in-the-blanks exercises.
Which languages do you speak?
Mainly French and English obviously, quite a lot of school Spanish, some Portuguese, because my brother is married to a Portuguese woman and I go to Portugal every year. And because of the Romance language base, bits of Italian.
If you could live anywhere in the world, where would you live and why?
Funnily enough, I actually love living in the UK. I love the freedom, the quality of life here. I like the respect and tolerance it gives to different cultures and identities, and I love the way that they embrace every eccentricity under the sun. That doesn't happen in the rest of Europe. I also love the British sense of humour, and the way we love and respect animals here. We've always loved animals. It's not a new thing. I'm just very happy here. I know the weather's not great and people are always complaining but they've got very little to complain about really. I'd love to visit Nordic countries like Iceland, because there's new earth being created there all the time and I find that fascinating. And I'd like to go to Sweden and Norway, but I don't know whether I could live there because I think it would be even colder!
What are three things about you that most people don't know?
1) I got onto a TV quiz show three years ago. It was called 15 to 1 and it was hosted by Sandi Toksvig.
How fantastic! I love Sandi Toksvig!
She's amazing and she's so friendly. I didn't expect to qualify because I'd never actually seen the show before! I do like quiz shows but I had never seen that one. To get on, they asked you 15 questions - general knowledge and I must have done quite well - I even managed to get a football question right, which surprised me! But I had to watch lots of back episodes in very rapid time, just to know what was expected of me. It was filmed in Glasgow and the experience was amazing because you have 3 goes at it and I did slightly better at each one. I didn't do particularly well - don't get the wrong impression! But I didn't disgrace myself which was my biggest worry. But it's a terrifying experience too, you're so frozen on the spot! When I watch back an episode, I can actually see the fear in the contestants' eyes - and it is fear because the spotlight's on you and you have about three seconds to answer after the question has been asked. So if you don't recognise it, or you don't remember the answer instantly you have no chance really. I was hoping to go back because other contestants were returning after a two-year gap, but I think it's finished now and Sandi is busy doing other shows. But I'm still in the Facebook group for it!
How did you get to apply for it in the first place?
I think I got an email maybe via Channel 4, I can't quite remember, but I got an email saying they were looking for contestants. I was surprised that I qualified. I really didn't think I'd get on. I'd like to go on Pointless but I've got to find somebody who's willing to go with me.
What's the premise of that show?
You have to come up with the most obscure answers to various areas of knowledge. It's quite hard, but it's very interesting, so that's on my bucket list.
2) I am at level 3,463 of Candy Crush Saga! I'm quite embarrassed by that, it's a bit of an addiction… I've been playing for a few years as you can imagine. I play the 5 games they give you, morning, noon and night. I'm doing quite well!
How does it work - do you play on your laptop or mobile?
Laptop mainly. I got quite addicted to Tetris in the 90s and played on a Gameboy then. I come from a family who liked to play cards and board games and it's gone on from that. I have been doing jigsaw puzzles during the lockdown, they are incredibly addictive but calming too.
3) I like creative arts. I like making and renovating things. Do you know 'Shabby Chic'? It's upcycling old furniture, and decorative items like mirrors which I really like to work on. I would buy an old piece of furniture at an auction, or rescue one from the tip, then mend it, paint it and give it a shabby chic look. It sounds crazy because most people like brand-new furniture and you are working with stuff that people have discarded but there's a great deal of satisfaction in renovating an item, you're making it into something more beautiful and re-loved. I also make soft furnishings -cushions, blinds... although blinds are quite difficult to make. And I am learning upholstery. I've completed several workshops to learn these skills, part of it was to learn découpage. It's an old technique which consists of cutting up interesting paper -it could be wrapping paper, or comics, or you could use old stamps- and sticking the bits by arranging them into an interesting pattern. I've made things with old comics, as presents. I found some papier mâché big letters in a craft shop which I covered with Astérix comics, English ones because they are easier to find here on eBay and you don't mind cutting them up and not wrecking your personal collection! They make great presents. Also, I made the original Kwiziq robots.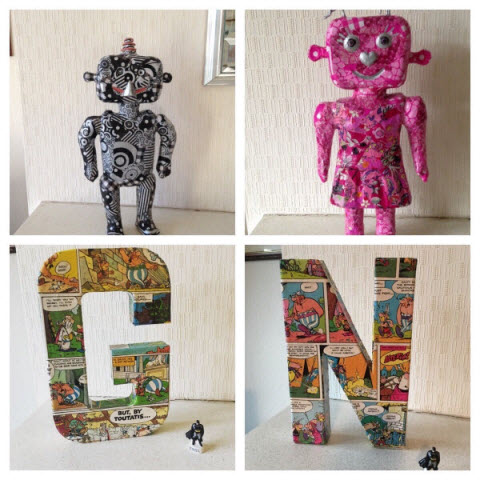 And I'm the mother of Kwiziq's CEO - Gruff!
What's your favourite word in French / English?
It's the same in French and English: palindrome. The longest example of which in French is ressasser = to go over the same thing over and over again.
Also: Rocambolesque - because it doesn't have an exact translation into English - it means a bit of a mad adventure. It's an adjective. It's taken from a fictional character Rocambole who has fanciful and incredible adventures.
I could come up with lots more, because I just love words… oxymoron is a favourite one of mine too!
What's the most unusual situation you used your foreign language knowledge in?
Working as a language services games maker during the 2012 London Olympics. Language services is part of Protocol, which involves VIP services, and interpreting if required. I was assigned to Wembley Arena for the Badminton events. The only real language service I did was that I was asked to interview a French-Chinese player about some scandal which had taken place overnight. Eight Asian players were disqualified for trying to deliberately lose their game. It was thought that they didn't want to win as it would have meant playing the favourite and it would have meant an early exit from the competition. I was briefed to ask this Chinese-French player what she thought about it. She played for the French team so I was pleased to use my French skills. I felt like a journalist! It was great - I wish I'd done more of that! It did give me the opportunity to use my language skills instead of other tedious tasks like standing around and directing people or stopping the wrong people sitting in the VIP seats in the arena.
I would have loved to have interpreted for a doping test but it never happened. The language training we were given was first class - it prepared all the linguists for any eventuality really. We were all trained for the likelihood of a random test involving a non-English speaking contestant and the strict protocol we'd have to follow. I have a picture of me taken where the Badminton trophies were displayed at the end of the restaurant dedicated to the VIPs, which included members of royal families.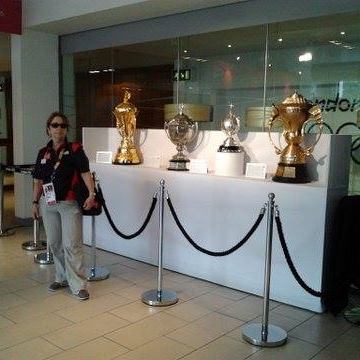 The whole experience was so amazing. It was an interesting bubble. I had to get up at half past five in the morning, to be there on time. Everybody was so friendly, when they saw you in your uniform they instantly knew who you were and would talk to you. It was a great atmosphere - London at its best!
What language-related achievement are you most proud of?
In 1992, I became a Fellow of the Institute of Linguists for my work in industry and commerce. And also, my language company which I set up in 1981 (which specialised in in-house language training) was awarded the Midlands Language Trainer award twice, in 1995 by the Department of Trade and Industry and 2003 by the UK Trade & Investment department. All language trainers and companies were invited to apply for these awards which were regional and national.
Over the years my company trained hundreds of business people from different companies to speak a foreign language - a variety of languages - we offered French, German, Spanish, Italian, Portuguese, Farsi, Japanese, we also did Chinese and English as a foreign language. But mainly European languages.
That's a fantastic thing to have done to inspire your children, as well!
Yes, well Gruff developed some ideas that went into Kwiziq as a result of seeing the language profile form that I created for students who wanted to know what stage of the language learning ladder they were at.
What do you most enjoy using your foreign language skills for?
I still do a little bit of private teaching, because I miss the human contact that teaching gives you. But I'm very choosy about my students nowadays. The latest was particularly interesting. He was a 90-year-old Scottish doctor, who had worked in public health and infectious diseases in the UK and French-speaking Canada. He spoke good French already but he wanted to revive it a bit. But this became very relevant as Covid 19 was spreading into Europe. We had very interesting discussions up to the point that he decided to suspend our lessons in the belief that the government was too slow in enforcing the lockdown. That was back in early March.
What one feature about Kwiziq do you like most?
The Q&A because it gives you direct contact with students, but I would say that!
What would be your advice for people posting on the Q&A?
I would say to listen to the advice that other students give them too, like Chris who often reminds people, "don't sweat the small stuff."
What's your superpower?
My favourite superhero is Ironman, so I'm not sure if I can compete! I think what I do well, since I have so much experience teaching engineers and people who have little formal knowledge of grammar, is making grammar digestible. Teaching engineers was challenging. They like rules and don't like rules being broken but in French there are always exceptions - l'exception qui confirme la règle - which you learn to accept early on at school in France. I would spend hours trying to think of the best way to make students understand a grammatical concept. I hope it is a skill I have transferred to Kwiziq! There are students who sometimes explain just with terminology and it doesn't mean anything and can be daunting to anyone who hasn't studied grammar at school. I think grammar is made more understandable by using lots and lots of examples. That's why I think the Q&A is an important part of Kwiziq and that it supplements the lessons. To me, it adds all the different layers and nuances that a lesson can't possibly contain, because it would be too long and indigestible.
Teaching has taught me to be more patient. It's strange because I'm not a very patient person and it's a family trait and it's a French trait as well! We always interrupt each other. I believe I can finish people's sentences, thinking that I know what they're going to say - it's ridiculous because I'm mostly wrong!
But when I'm teaching I'm very, very patient and I'm a really good listener. I think this is because when teaching, you take on a different persona. It's like acting. I used to love acting when I was at school. I would have loved to have been an actress. But teaching is very similar.
What kind of acting did you do? Did you perform in plays?
In secondary school around the time of the baccalauréat, I remember that our school put on Les mains sales by Jean Paul Sartre, and I played Jessica. I also remember playing the role of Antigone in Jean Anouilh's Antigone. I loved that part -very dramatic- suited my teenage angst! I just loved the theatre, I used to read plays like I read novels nowadays.
Do you like films as well or is it just theatre?
Oh no, I love films, and foreign films in particular.
What language do you wish you spoke?
It would have to be a Scandinavian language. I am a great fan of Nordic Noir and of the Norwegian Jo Nesbø's novels in particular. I've read all of his books. It would be hard for me to choose but probably Swedish. Tack!
Tack så mycket, Cécile! More interviews with the rest of the team coming soon!