It's easy to practise reading and writing in French on forums, social media sites, and the like, and there are plenty of listening resources available, but what about speaking? We've written about ways to practise speaking in the real world and how to practise speaking on your own, but there are also some great sites where you can practise speaking via Skype, Zoom or any other voice chat service.
Find an online French tutor
If your goal is to improve your speaking skills as fast as possible, 1-on-1 French classes with a tutor are the best way to achieve this.
You can find an online French tutor on our partner website, LanguaTalk.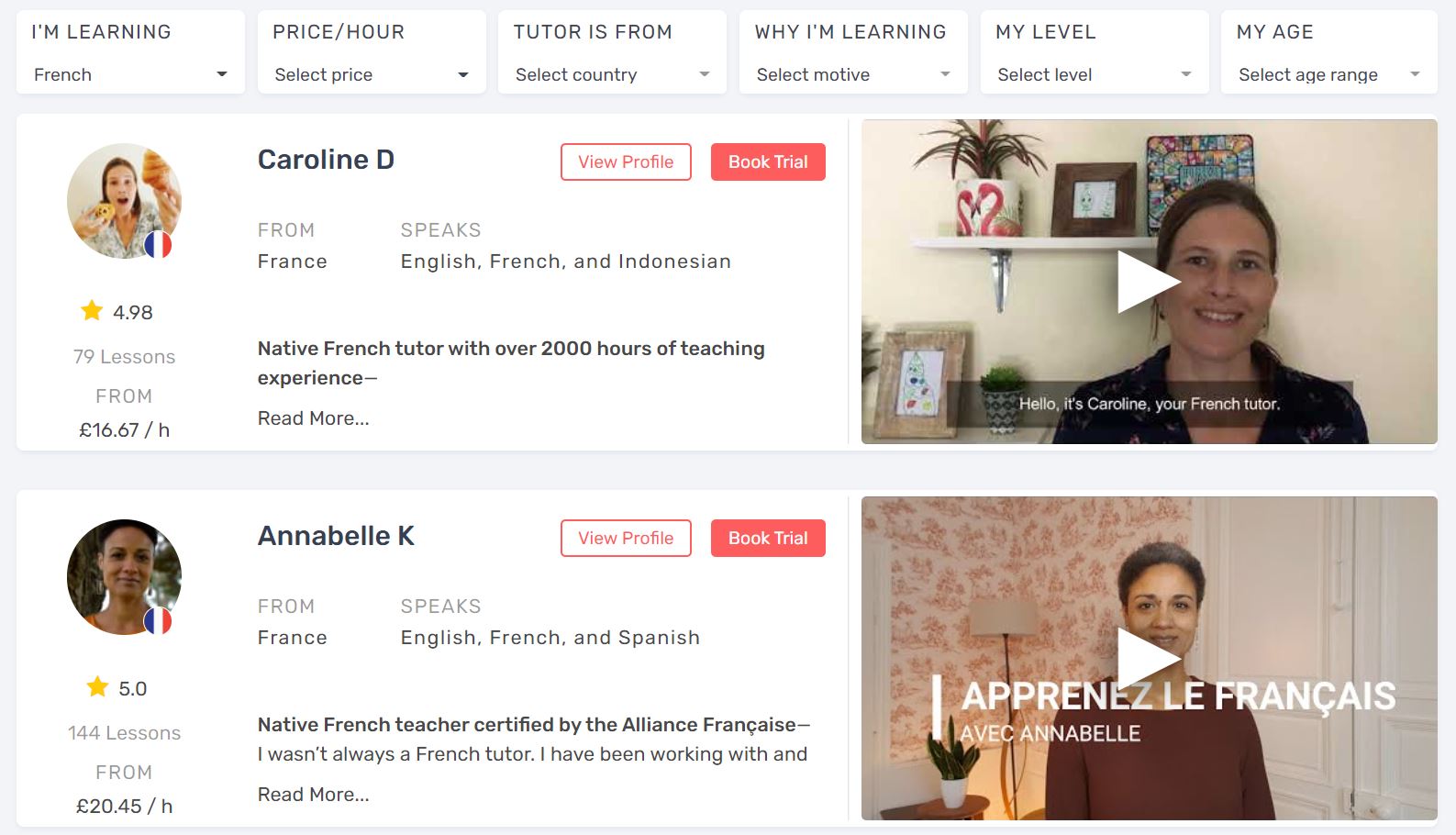 Tutors on LanguaTalk are experienced in giving classes that focus on improving speaking skills. You can even choose the topics if you wish, focusing on what interests you and covering vocabulary that you'll actually use in your daily life.
You can choose from dozens of tutors and instantly see those who have availability when you want to take classes. You can also see their reviews and filter by country if you want to focus on a particular dialect.
If you have a limited budget, you can filter by price, with tutors costing anything from $8 to $30 per hour. Online tutors are typically better value than local tutors as they don't have to take into account travel time and they often live in countries with a lower cost of living.
LanguaTalk also offers new students a free trial session, which allows you to make sure you've made the right choice before deciding to take lessons. 90% of tutors offer a trial for free, while some charge a small fee. You can view online French tutors here.
Language Exchanges
If you don't have the budget to take lessons with a tutor, a language exchange may be a good alternative.
Face-to-face language exchanges are typically held in bars and cafes in major cities. They vary in format but commonly you'll be given a sticker showing your native language and the one you're learning. Then it'll be up to you to mingle and find suitable people to chat with.
Be aware that you'll usually have to spend 50% of your time speaking your language (to help others learn it), rather than using French.
The Meetup app is a good option for finding a language exchange. You can also try Polyglot Club.
Alternatively, there are some online language exchanges you can try. HelloTalk is worth checking for this, though it has mixed reviews.
Language exchanges can be fun and are good for meeting people. But if you only have so much time and have the budget for lessons, we recommend checking out the tutors and booking a trial session on LanguaTalk.